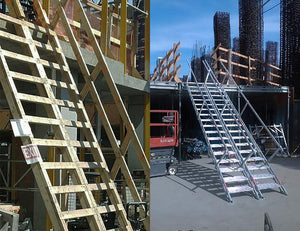 Winter is Already Here: Time To Reassess Your Height Access
In the US—particularly in the Northeast—wintery conditions are setting in for what looks like a long chilly season. Already in November, heavy snow has fallen and caused whiteouts in places like northern New England, and upstate New York. Many roads have been blocked, and some school children have enjoyed a day or two at home due to inaccessibility.
But in construction, the work must go on whenever possible. After all, time is money; any break in the weather is seized for the continuation of work. If you are building in inclement weather, you must treat your working zone a lot differently than you normally would the rest of the year around. Believe it or not, a lot of companies will almost ignore the conditions and plow ahead regardless, putting the welfare of their workers in jeopardy.
The Numbers
According to the Bureau of Labor Statistics, slips, trip and falls caused 229,190 non-fatal workplace injuries and 699 fatal work injuries in 2013. These numbers are collated from across the whole country, where there are drastically different climates and seasonal extremes. So cold weather is not always a factor. But add to the already alarming fair weather dangers the presence of ice and snow, and you have a recipe for disaster, especially when working at height.
The Workers' Part
To be compliant with OSHA regulations, construction workers are encouraged to wear insulated and water-resistant boots with heavy duty rubber treads, be attached to safety lines and to walk in short steps and a slower pace. But this can only do so much. Consider how many times the environment changes on a worksite – pits get wider and deeper, tripping hazards change locations almost hourly, and in multi-level developments, temporary stairs are moved around and placed at different angles.
The Employers' Part
The infrastructure for safe access and egress is the responsibility of the employer, no matter what the weather is like.
A common temporary solution for height access between floors on the construction site is a wooden grid-like stair set that looks more like a very wide ladder. This is fine, but even in good weather, it can be a very dangerous solution – the 'stiles' are pitched at a very awkward angle that provide virtually no grip and dig into the arch of the feet, and fall protection consists of only one handrail on one side.
Getting Real About Snow Safety
This is where USA-based height access provider SafeSmart Access have stepped in. Consider their portable stairs, for example. For any floor-to-floor height, their designers can create easy and safe access for workers, with a highly-reduced danger of falls built in. The robust tread plates feature a coarse grip pattern, and the plates themselves are self-levelling, which means that if the stair needs adjusting to a more acute or obtuse angle, the platform for the foot is always safely straight.
SafeSmart Access' Ben Wooten has noticed an earlier uplift in interest in this product compared to previous years, due to the early frosty conditions. And wherever he goes, contractors are saying 'of course'.
"I think the early cold snap has made a lot of construction companies think twice about makeshift stairs," says Ben. "And I think they see a solution like ours as a potential way of increasing productivity. Not just with injury prevention, but also with the ability to safely carry equipment up and down our stairs."
SafeSmart's portable stairs are also made to be tightly anchored to the ground, with a wide enough baseplate on the bottom of the feet to accommodate significant fastening, as well as a versatile fixing point at the top. This is something that alleviates even the most remote possibility of slippage on ice.
- SafeSmart Access' representatives are available for pre-sale onsite safety audits right across America, including the shivering states at the top.
---