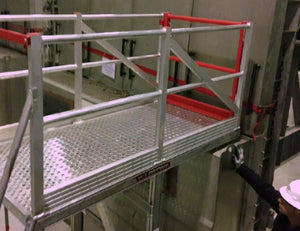 AEP Increase Safety Power
American Electric Power (AEP) have commissioned a MIchigan height access equipment provider to increase safety at a local facility.
AEP serve nearly 5.4 million customers in 11 states, so maintaining a constant and reliable supply is crucial for domestic use and industrial productivity. This consistency also relies on maintaining a safe environment in which AEP's technicians work. During recent scheduled activities, workers at the New York facility found that the shape of most machines—tall, yet protruding out at the bottom—meant that standard ladders or platform steps meant leaning unsafely over the edge.
In addition to offering free safety training resources to their customers—electrical safety for contractors, call 811 before you dig and more—AEP also offer a program for internal staff and technicians. With falls being US industries' leading cause of injury and deaths, OSHA recently reviewed their 'Walking-Working Surfaces and Personal Fall Protection Systems Final Rule', which became effective from January 17, 2017. This update has seen many infrastructure companies and factories reassessing their work environments. And AEP were no exception.
The AEP Team Production Supervisor needed a customized structure that could be easily manoeuvred by hand, that was compliant with OSHA regulations. SafeSmart Access, based in New Jersey, were used to designing customized steps and stairs, however a standard-range product met the criteria immediately – the Cantilever Platform.
With several step-count configurations, of which AEP chose the seven-step, the cantilever was developed for machinery service workshops. With a 225kg (496 lbs) weight rating, robust castors and a heavy-duty welded aluminum construction, the cantilever now gets AEP workers up close to the machinery without risking a fall or the likelihood of tipping normally associated with standard products.
And as it turned out, the platforms fit the infrastructure at AEP perfectly. SafeSmart's Ben Wootten says the customer is now considering the units for several more locations in the AEP network.
"In the end, AEP bought several of these," said Ben. "It has allowed the company to increase low height access safety and efficiency to the platform's capacity for holding tools. No more up-down-up-down when changing tools. And it's all OSHA-compliant."
---